View all Standards for Florida Sunshine State Standards
TH.912.C.3.3 Critique, based on exemplary models and established criteria, the production values and effectiveness of school, community, and live or recorded professional productions.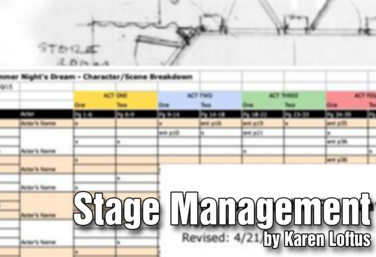 UNIT
by Karen Loftus
A unit on stage management is a great way to link technical theatre, acting, and even directing. We spend so much of our class time on performance-related projects and, when we do address technical theatre, we often do so by talking about design.
Why not introduce your students to a skill set that not only benefits your productions by ensuring a strong backstage crew and smooth production process, but also benefits the students individually? Through exploring stage management, students learn skills such as analytical thinking, organization, teamwork, and problem solving.
View all Standards for Florida Sunshine State Standards Standards Master List