View all Standards for National Core Arts Standards
TH:Pr4.1.HSIII.b Apply a variety of researched acting techniques as an approach to character choices in a drama/theatre work.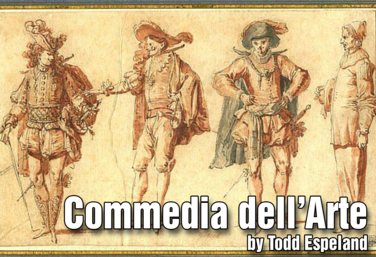 UNIT
by Todd Espeland
Commedia dell'arte is a 16th century masked acting form. It is the basis of all comedy, including all tv sitcoms. This form is characterized by masked types and archetypical characters and a specific way of playing comedy. To that end, this unit is divided into two parts.
Part One focuses on the foundations of commedia - playing comedy. These principles will be important to learn when it comes to developing commedia characters, specifically the physicality of the characters. Part Two will cover lazzi.
Note: there are links to video demos in many of the lessons of this unit.
View all Standards for National Core Arts Standards Standards Master List