View all Standards for Texas Essential Knowledge and Skills for Theatre Arts
C.1.G develop and practice memorization skills.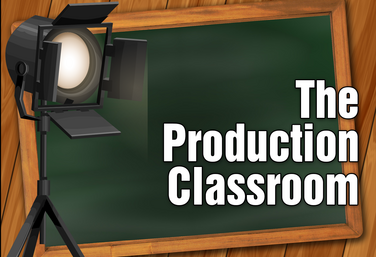 PD COURSE
by Karen Loftus
In The Production Classroom, instructor Karen Loftus will show you how to explore ways that you can produce shows during your regular class time. The course gives you a series of exercises and reflections that help you determine everything, from the type of show you may want to do, to the way you can divide up your class and responsibilities, to specific assignments that will keep your students engaged and focused. The Production Classroom is the ultimate in project-based learning. Students learn to work collaboratively while setting goals and working towards a successful finished project. The course includes exercises and strategies to use with students to help assure their success in the production. Multiple examples and anecdotes help you to envision what the production classroom could look like in your room, performance space or theatre.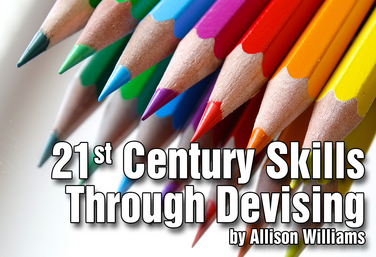 PD COURSE
by Allison Williams
Allison Williams leads the course: 21st Century Skills Through Devising. This course covers what devising is, why to do it, how to do it, and how your students can master the 21st Century Skills of collaborations and cooperation, critical thinking, creative thinking through devising. High school is a great place to try devising with your students. But it's not something you want to throw at your students without any preparation. Framework is important and this course takes you through a number of exercises you can take into the classroom tomorrow to help build a place of physical safety, a place where students work at making a lot of choices instead of waiting for the perfect choice, and a place where students feel comfortable making creative choices. The material also reviews the process of putting together a show from the idea/research stage to editing, to giving feedback. Your students have what it takes to create their own material, collaborate with each other, and have a unique theatrical experience!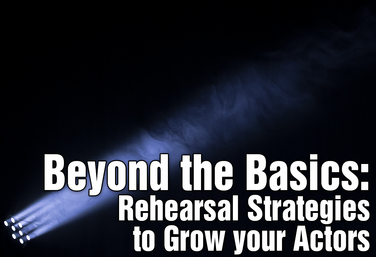 PD COURSE
by Julie Hartley
The focus of the teacher-director should be not only on the quality of the show, but on the value of the experience offered to student actors. This course takes you on this journey through practical rehearsal strategies that apply an ensemble approach. This course starts with those all important first rehearsals, explores warm ups, and looks at character development. We examine specific types of plays, like classical texts and comedy, and conclude with strategies to solve common rehearsal problems. Go beyond the basics!
View all Standards for Texas Essential Knowledge and Skills for Theatre Arts Standards Master List