View all Standards for Common Core
CCSS.ELA-LITERACY.W.9-10.4 Produce clear and coherent writing in which the development, organization, and style are appropriate to task, purpose, and audience.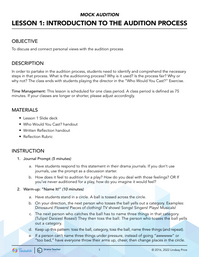 LESSON PLAN
Part of Mock Audition Unit
by Lindsay Price
In order to partake in the audition process, students need to identify and comprehend the necessary steps in that process. What is the auditioning process? Why is it used? Is the process fair? Why or why not? The class ends with students playing director in the "Who Would You Cast?" Exercise.